Charity Support
Across the UK, our offices are involved in activities to support local communities and charities. Moreover, our employees are involved in fundraising and giving their time and effort to supporting local campaigns.
On Track for Severn Hospice
Exertis is on track to raise an ambitious target of £25,000 for the Severn Hospice in memory of former employee Shane O'Connor who worked as a business development manager in our mobile division for 6 years. Two events have already taken place.
Nine members of the Exertis mobile team competed in the Marlow Fugitive Olympic Relay Marathon in July. The challenge comprised of a brisk 1.5km swim in the Thames, followed by a 37km bike ride and a 10km run.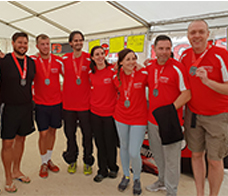 Three Peaks Challenge
Ten intrepid hikers from Team Exertis successfully completed the Welsh Three Peaks Challenge, tackling Mount Snowdon, Cadair Idris and Pen y Fan – all in one day. It was no easy challenge, but the team raised £2,278 for Cancer Research UK.
A fantastic achievement for a great cause. Well done Team Exertis.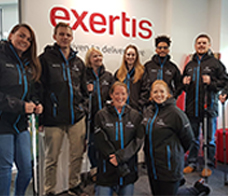 Marathon Man, Gareth, Raises Almost £2000 for Local Charity
Gareth Phillips, head of commercial at Exertis in Harlow ran the London marathon in April, raising almost £2000 for Accuro Care Services, a charity that provides a range of services for children and young adults with disabilities in West Essex.
Gareth finished in 6h 18m 30 secs, a little over his target time but in rather warm conditions. However, he beat his fundraising target by almost 100%.